Sai Kerisha Kntayya
admin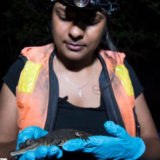 Sai Kerisha Kntayya
Crocodile Conservation Officer
Kerisha was born in Penang and lived there till she completed high school at Convent Green Lane. She then moved to Sabah in 2004 with her family where she completed form 6 in SMK All Saints. Throughout her education years, she always stuck close to conservation, having completed her basic degree in Conservation Biology (UMS, 2010) following a Msc Degree in Conservation Genetics (UMS, 2016) on the genetic diversity of the horseshoe crabs in Sabah. She knew that she was going to pursue a PhD in the same field but had no clue when the time would come. One day she noticed the DGFC's Facebook page. She started following the amazing work and research that had been going on in DGFC. Before she knew it, she became a part of the DGFC team and has loved every second of it.
Kerisha's strong passion for nature and wildlife started during her childhood. She was always picking up insects, rescuing and caring for injured animals, and loved the outdoors. It was not too long before her parents noticed this and only encouraged her to continue to do what she loved best – to be with animals. Kerisha hopes to change the mindsets of people especially in Malaysia, that enrolling in the field of conservation is as important as any other profession. She hopes that more young Malaysians follow this path with aims to educate children and elders on how important it is to protect the environment we live in today.
Kerisha is now employed by DGFC as Crocodile Conservation Officer, with her major focus being to oversee a three-year, state-wide survey of Sabah's crocodiles. This will provide important information regarding the population trends occurring throughout the various river systems found throughout Sabah. In parallel, she's enrolled as a PhD student at Cardiff University, studying the crocodiles' genetic diversity, demographic structure and spatial ecology (and potentially genomics). Being attached to Cardiff University and DGFC she can't imagine being anywhere else.
Education: MSc Conservation Genetics; Universiti Malaysia Sabah (UMS), 2016.