Richard Burger
admin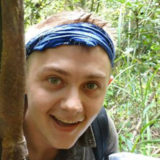 Richard first came to DGFC as an undergraduate with Cardiff University on the tropical conservation field course back in 2009, learning a great deal about various survey techniques and conservation. He was given the opportunity to conduct a small study on the diversity of the local lizard fauna using pitfall traps. Despite only spending 2 weeks there, Richard loved it and wanted to someday return as a volunteer or researcher.
He continued studying at Cardiff University to gain an MRes in bioscience, conducting fieldwork in Mauritius to look at dietary competition between the endangered Telfair's skink and Invasive Asian Musk shrew, using PCR to analyse and sequence the preys' DNA in their diets.
Richard then worked as a volunteer intern for Para La Tierra, a small NGO in the Cerrado of Paraguay, looking at behavioural responses on microteiid lizards.
After spending some time outside of academia working as a Sixth Form science tutor, hr went to Madagascar to work for Frontier, a volunteer-led conservation NGO as the Principal Investigator of terrestrial research.
Like many children, Richard was fascinated by wildlife, and that was something he never really grew out of. He knew from an early age that he wanted to work with animals, but he thinks that reading books by Gerald Durrell as a child heavily influenced his decision to study zoology and work in conservation. Durrell was a pioneer of conservation and influencing zoo policy for the purposes of saving endangered species and public education, rather than for entertainment. Richard wanted to be just like him and travel on exotic expeditions to save endangered species, but this idea eventually evolved with a developing love of science into wanting to be a field ecologist.
Richard aims to work on understanding the ecology of reticulated pythons in the Kinabatangan, and how this is influenced by habitat fragmentation and oil palm cultivation, as well as looking at the conflicts with, and impacts upon, local people. This should aid our understanding of a key predator within forests and plantations, both within the study area of DGFC and throughout its range in South East Asia, as well as assisting in understanding the sustainability of the trade in python meat and skins in the area. He aims to understand the negative beliefs and practices, if any, of locals towards snakes, and to try to paint this often maligned and misunderstood group of animals in a more positive fashion, particularly the non-venomous species that pose no threat to humans.
Highest Degree
MRes in Biosciences from Cardiff University
Publications
Brown, D. S., Burger, R., Cole, N., Vencatasamy, D., Clare, E. L., Montazam, a., & Symondson, W. O. C. (2014). Dietary competition between the alien Asian Musk Shrew ( Suncus murinus ) and a re-introduced population of Telfair's Skink ( Leiolopisma telfairii ). Molecular Ecology, 23(15), 3695–3705. http: