John Robertson
Tommy Rowel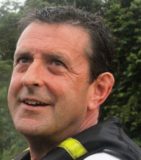 John Robertson
Director of Public Relations and Development
John first came to Sabah in 2007 when, as Director of Administration at the School of Biosciences (Cardiff University), he helped co-ordinate the establishment of the Danau Girang Field Centre through a formal partnership with the Sabah Wildlife Department.
His varied career has taken him all over the world, most recently working with senior management at the University of Malaya (Kuala Lumpur), as Director of Institutional Advancement.
Now, over ten years on from his first visit Kota Kinabalu, John joins DGFC as Director of Public Relations and Development.