David Kurz
admin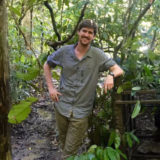 As a child, David entertained himself by capturing and raising a menagerie of local wildlife – newts, crayfish, rabbits, frogs, turtles, mantids, birds… His love for wildlife crystalized into a conservation calling when he began reading dozens of books by English conservationist Gerald Durrell, whose tales of capturing exotic wildlife in far-away lands captivated the young naturalist. David went on to complete his undergraduate degree in Ecology & Evolutionary Biology at Princeton University and his master's degree in Zoology as a Gates Cambridge Scholar at the University of Cambridge.
As a conservation ecologist, David has broad interests in movement ecology, conservation biology, and wildlife management, and is especially passionate about the conservation of vertebrates in tropical landscapes. When he visited Danau Girang in 2015, he was hooked by the beauty of the landscape in the midst of significant human pressures, the mystery of the bearded pig's movements in the Lower Kinabatangan, and the fascinating collaring projects underway at the field centre. David felt a tug to return for his PhD fieldwork, and in August 2017 he jumped into his research at DG. Through his work, David is hoping to help unravel the enigmatic story of the bearded pig: its responses to agricultural expansion, its cultural significance, and the fate of its (formerly?) great migrations.
Outside of grad school, David has worked in full-time Christian ministry and has a passion for dialogues at the intersections of theology, faith, culture, and conservation. He also enjoys playing soccer and tennis, following European soccer (especially FC Barcelona), hiking & backpacking, and traveling. Following his year in Sabah, David hopes to continue to pursue applied conservation ecology research as well as create new partnerships between religious communities and environmentalists.
Selected Publications
Love, K.; Kurz, D. J.; Vaughan, I. P.; Ke, A.; Evans, L. J.; Goossens, B. 2018. Bearded pig (Sus barbatus) utilisation of a fragmented forest – oil palm landscape in Sabah, Malaysian Borneo. Wildl. Res., 44, 603–612.
Nowakowski, A.J., J.I. Watling, M.E. Thompson, G.A. Brusch, A. Catenazzi, S.M. Whitfield, D.J. Kurz, A. Suárez-Mayorga, A. Aponte-Gutiérrez, M.A. Donnelly, and B.D. Todd. In press. Thermal biology mediates responses of amphibians and reptiles to habitat modification. Ecology Letters doi: 10.1111/ele.12901
Gaynor, K.M., K.J. Fiorella, G.H. Gregory, D.J. Kurz, K.L. Seto, L.S. Withey, and J.S. Brashares. 2016. War and wildlife: pathways through which armed conflict affects fauna.
Frontiers in Ecology and the Environment 14, 533-542.
Kurz, D.J., E.C. Turner, A.A. Aryawan, H.C. Barkley, J.-P. Caliman, O. Konopik, S. Ps., and W.A. Foster. 2016. Replanting reduces frog diversity in oil palm. Biotropica 48, 483-490.
Kurz, D.J., A.J. Nowakowski, M.W. Tingley, M.A. Donnelly, and D.S. Wilcove. 2014. Forest-land use complementarity modifies community structure of a tropical herpetofauna. Biological Conservation 170, 246-255.
Kurz, D.J., N.A. McGinty, S.A. Stankavich, A.J. Nowakowski, and G.A. Smith. 2013. Restored wetlands can support mammalian assemblages comparable to those in non-mitigated, reference wetlands. American Midland Naturalist 170, 260-273.
Kurz, D.J., K.M. Straley, and B.A. DeGregorio. 2012. Out-foxing the red fox: how best to protect the nests of the Endangered loggerhead marine turtle Caretta caretta from mammalian predation? Oryx 46, 223-228.
DeGregorio, B.A., T.E. Hancock, D.J. Kurz, and S. Yue. 2011. How quickly are road-killed snakes scavenged? Implications for underestimates of road mortality. Journal of the North Carolina Academy of Science 127, 184-188.