Audrey Adella Umbol
admin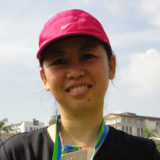 Audrey Adella Umbol
General Manager
A graduate from Lancaster University U.K. with a BSc in Management Science, Audrey enjoys the great outdoors and adventures in nature. After 12 years of working in hotels as head of Human Resources and Training, she left for a short sabbatical and later took up the opportunity to work within the conservation industry in Sabah.
She joined DGFC in January 2013 and is based at the Kota Kinabalu office. Her main scope of work is to assist the Director in all aspects of administration and office management in DGFC.
A short trip to Sukau (as a tourist!) in 2008 was her first close-up introduction to wildlife in Kinabatangan – a small epiphany that made her realise how important it is to protect Sabah's environment and wildlife. Travelling around the region further increased her awareness of the work carried out and challenges faced by wildlife conservationists, so when the opportunity presented itself to work for DGFC, she was more than happy to jump on-board.