Anita binti Tahir
admin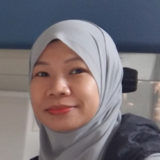 Anita binti Tahir was one of the molecular biologists for Danau Girang Field Centre. She was based at the Sabah Wildlife Department's Wildlife Health, Genetic and Forensic Laboratory, Potuki, Sabah. She joined DGFC team from August 2014 to May 2016. Prior to joining DGFC, she had been working as molecular biologist for zoonotic diseases in two projects: one was conducted in Sarawak under the Zoology Department, Universiti Malaysia Sarawak; the other project was in Sabah under EcoHealth Alliance's PREDICT. She is experienced to conduct microbiology, natural resources and pharmaceutical research.
Anita received a Bachelor's degree in Resource Biotechnology and a Master of Science in Microbiology, both from Universiti Malaysia Sarawak. Her long interest in research was influenced by one of her lecturers, Prof. Ismail bin Ahmad, who mentored her research work for six years. Also, she was impressed by the conservation work done by the Director of Danau Girang Field Centre in Sabah, Dr. Benoit Goossens. Later, she was offered the chance to join DGFC and contribute back to the society.
She supported DGFC's efforts to conserve the local endangered species of Sabah by kicking off a project on paternity and relatedness on orangutans from Kinabatangan in collaboration with the NGO HUTAN. She also aided other projects including the population genetic structure and phylogenetics of the estuarine crocodile; the population genetics of the proboscis monkey; and the MONKEYBAR project, led by the London School of Hygiene and Tropical Medicine.