Amaziasizamoria Jumail
admin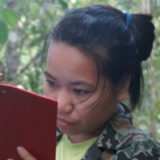 Amaziasizamoria Jumail
Senior Research Officer
Amaziasizamoria Jumail (a.k.a. Maz) has been interested in animals since she was studying in university. The opportunity to do her training at Lok Kawi Wildlife Park increased Maz's interest and passion in protecting wildlife. She knew about the existence of DGFC through a friend who had volunteered there. At DGFC's Facebook page she saw an opportunity to work for DGFC and applied for it without hesitation.
Maz's lecturers are the persons that she looks up to when it comes to wildlife protection but she wasn't strongly influenced until she worked with DGFC. Their dedication of the People in DG in conservation has made her think how important it is to protect our wildlife. Although most of them are not local Sabahans they are fighting for the wildlife in Sabah. Their efforts encouraged Maz a lot to stay in this field and do whatever she could to contribute in conservation/protection of environment and wildlife. Reading the news about killing wildlife for personal advantages has made her decide to be involved in protecting them. Maz decided to dedicate herself in this effort no matter how small her contribution is because animals can't speak for themselves.
Maz was previously working on the Malaria Project (MONKEYBAR). This project seeks to determine the risk factors for exposure in humans and to inform and target control measures. She believes that if those objectives can be obtained successfully, there will be huge impacts to everyone in the future. Currently, she is pursuing a Master degree at the Universiti Malaysia Sabah, also attached to DGFC and related to the use of remote sensing and geospatial techniques for primate census.
Education: Bachelor of Science with Honours (Animal Resource Science and Management) – Universiti Malaysia Sarawak (UNIMAS).