Alexander Horton
admin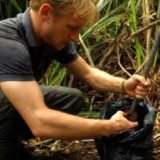 Unlike most of the researchers that are stationed at the Danau Girang Field Centre, Alex Horton background has nothing to do with wildlife or even habitat, but rather water. He completed a master's degree in Hydrology and Sustainable development with the intension of working either as a water and sanitation engineer abroad, or in the area of water security. However, after a brief stint with an environmental consultancy, Alex decided to return to academia so that he might look more closely at the idea of land use having an effect on river systems. The Kinabatangan in Borneo is an ideal place to study the effect of land use change on a big tropical river system, as the extensive forest clearing that has taken place over the past decades has been recorded in Landsat images, which enables us to monitor any effects it has had on the river itself.
At the end of 2014, Alex was lucky enough to spend 4 months at the Danau Girang Field Centre collecting data on the differences in vegetation cover associated with changing land use, as well as measuring the river's width, depth, bathymetry and other characteristics. Whilst he was stationed at DGFC, he met lots of passionate people, foreign and local alike, who were all working to help conserve the forest habitat and the wildlife that is found there. The more Alex worked in the forest, and the more he spoke with the people who knew it well, the more it became clear that something irreplaceable was being lost, that the forest was under threat, and that more needed to be done to make sure that what little remained was protected from further clearing, before it becomes so fragmented and isolated that it can no longer sustain itself, and is lost entirely. His time at the DGFC has left him in no doubt about the importance of preserving the forest as a whole, and has highlighted the necessity of maintaining the riparian corridors that are so vital for connectivity. By demonstrating the effect that forest clearing has on the stability of riverbanks, and linking the increase in river migration rates to increased rates of land lost to the river, Alex hopes that the work we are doing will go some way to protecting these sensitive areas by ascribing an economic incentive to their preservation.
Education
PhD on Impacts of Rapid Land Use Change on the Meandering Dynamics of the Kinabatangan River, Borneo. Cardiff University.
Publications
Horton, A.J.; Lazarus, E.D.; Hales, T.C.; Constantine, J.A.; Bruford, M.W.; Goossens, B. 2018. Can riparian forest buffers increase yields from oil palm plantations? Earth's Future, doi: 10.1029/2018EF000874. 
Horton, A.J., Constantine, J.A., Hales, T.C., Bruford, M., Goossens, B., 2017. Modification of the mechanisms driving river meandering caused by tropical deforestation. Geology G38740.1.
Horton, A. J. 2017. Impacts of Rapid Land Use Change on the Meandering Dynamics of the Kinabatangan River, Borneo. PhD Thesis; School of Earth and Ocean Sciences, Cardiff University.