marina
A Wild Weekend at Tanjung Aru State Library
By Rhys Davies from Cardiff University, currently doing his Professional Training Year (PTY) placement at Danau Girang Field Centre (DGFC).
On 10 December, DGFC and the Sabah State Library hosted a joint initiative called "A Wild Weekend at Tanjung Aru State Library". The event targeted children as well as university students, providing an opportunity to learn more about the incredible wildlife and forests of Sabah and meet the researchers trying to protect it. 
The children listened to talks about the importance of conserving rainforests and the dangers threatening wildlife across the planet, and what we can do to help. They took part in some interactive games, an animal identification quiz as well as a selection of hands-on activities and colouring. The results of their artwork were very impressive, and many prizes were awarded!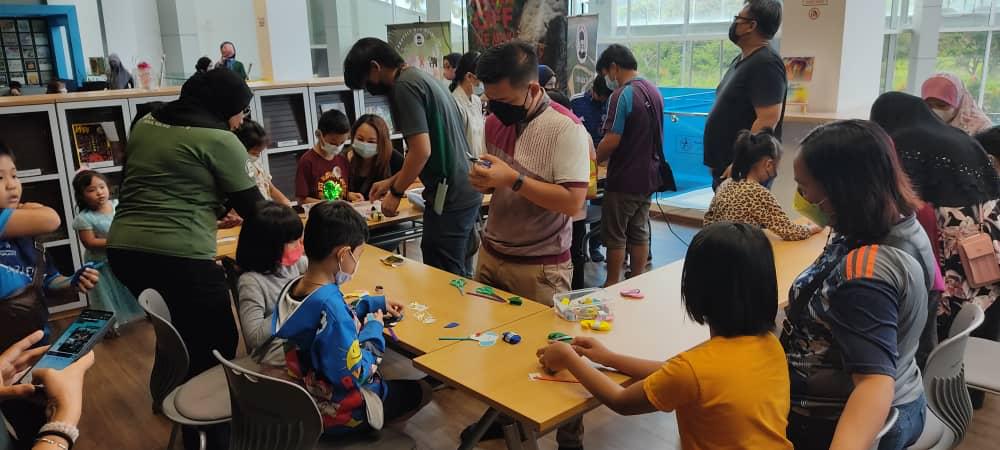 University students from Almacrest International College and University College Sabah Foundation were also welcomed. The students had the opportunity to engage with DGFC's wildlife researchers who live and work at the Centre. Presentations were given by Cardiff University PhD student Maz, a Sabahan whose research project evaluates the carbon and ecological impact of reforestation in Borneo. The second presentation was given by Hong Kong University researcher JiaZhen Lim, who is working on a project studying the role of Sunda pangolins in the emergence of viruses such as SARS-CoV-2 in humans. The discussion that followed also allowed the university students to appreciate and better understand what life in the field of conservation research is really like.
A big thank you to the DGFC education team and Sabah State Library for hosting a wonderful morning, and many thanks to the children, parents and students who attended.
Feature image: A variety of activities were on offer, such as the colouring of Sabah's incredible wildlife. All photos by the DGFC Education Centre.